Allowing God
Insights to Inspire and Renew the Fire of Love at the Very Center of Your Soul
By Woo Du-An and Robert G. Novak
Available in soft cover print, E-book and Kindle, and Audiobook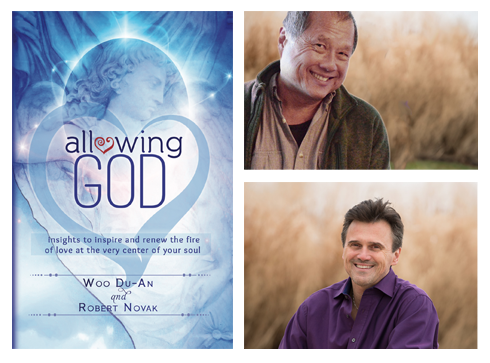 In this book you'll discover treasures that in a most gentle way will penetrate your  heart and remind you that God is breathing through us. Woo Du -An and Robert  Novak helps us to let go of the beliefs that we are separate from God and glide into the reality that we are part of the grand consciousness of spirit. As you read this book windows of your soul will open and your spirit will experience freedom.
Allowing God™ is a masterfully simple book that encourages readers to let go of the demands that our circumstances should be different in order to experience God, love or freedom. Woo and Novak's gentle writings are potent reminders that God is already present with us. These illuminating words shine a wonderfully loving light directly on the path back to who we already are, and the most well hidden yet obvious truth around—God Is..
This collection of brief yet moving stories shines the Light of Love on the process of Spiritual Awakening in a beautiful, deeply personal, and inspiring way—gently guiding readers Home from whatever they might be experiencing to the Compassion, Joy, and Loving of the Authentic Self.
Reading Allowing God™ is like having a series of meaningful and intimate conversations with an experienced, wise, funny, loving  and quietly shining companion. This is a book I want to keep close at hand, and I know you'll find it as valuable as I did.